Chania is one of the top tourist destinations in Greece. Many other Greek islands reside in this category but Crete combines many aspects that are appealing to tourists. Apart from numerous hotels, Villas in Chania are one of the top choices for people that want a quiet retreat with all the luxury amenities for their vacation in Crete. In this comprehensive guide we will point out some of the most famous places in order to enjoy proper hospitality, luxury and exceptional Villas in Chania.
Villas in Chania: A small briefing.
By choosing to live in a luxury villa in Chania most of the time you will be rewarded with impeccable views and the privacy that you most need during your stay in Crete. Most of the villas in Chania are newer constructions which means that building materials and building quality is paramount. Excellent are also the choices of recreation on the villas whereas many of them offer private indoor or outdoor swimming pool, spa, Jacuzzi and many more assuring you a pleasant stay.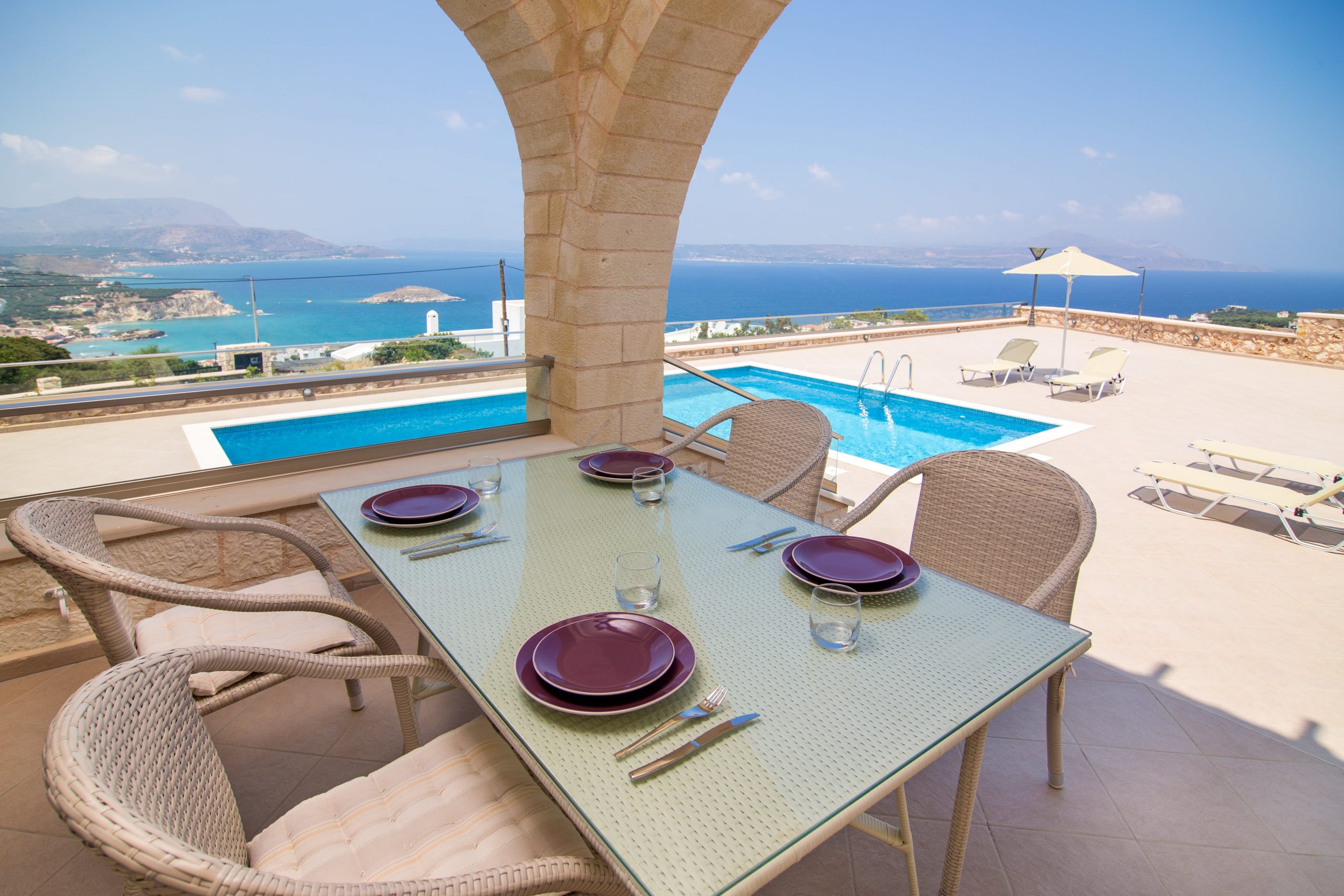 Villas in Chania: Well established choices.
When arriving in Chania you quickly realize that some areas are extremely well organised with lots of shops,restaurants, hotels and everything in between for your comfortable vacation experience. If you are looking for one of those then the Apokoronas region is a must for you.
Apokoronas region comprises many small (and bigger villages), each one of those in very close distance to the beaches of northern Chania. Good option for renting a villa is Kalyves area, which is one of the beachfront villages of Apokoronas region. If you like to enjoy better sea views from above then we recommend that you choose to rent a villa in Kokkino Chorio area, as this village is situated in a higher altitude with breathtaking views over Souda bay. In a very close distance from Kokkino Chorio is Almyrida Village which is considered the touristic jewel of Apokoronas region.
Many hotels, shops, luxury restaurants are situated there and you can enjoy the cosmopolitan character of the place. All those options are guaranteed to help you find a central villa in Chania with all the amenities and close to places of interest for a superb holiday.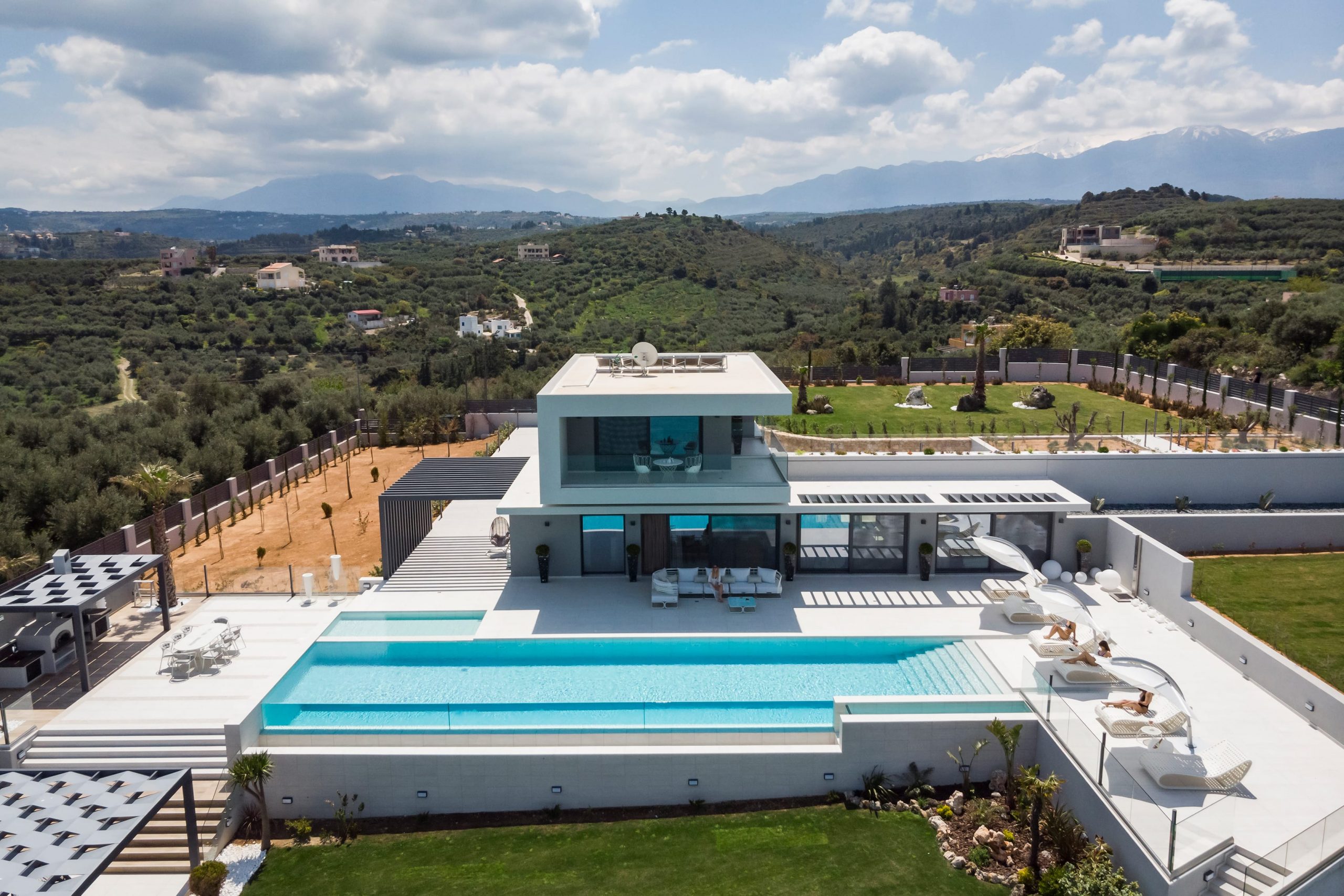 Villas in Chania: The remote options.
Kyriakidis Construction Company is for more than 25 years a leader in building luxury villas all over Chania area. We have figured out that many vacationers like to have vacations in more remote places where they can enjoy the peacefulness of the Cretan countryside. Kefalas, Vamos, Drapano and Plaka are only a few places that are not that far away from the most organised villages, but are also capable of providing you with the peace and quiet you mostly want on your vacation.
Souda bay area is also a nice option for vacationers as it offers unobstructed sea views of the Cretan sea. For those who love to wander around we can certainly suggest Malaxa region as it is situated on the foothills of Lefka Ori and offers a panoramic view of Chania vicinity from a distance.
Villas & Vacation in Chania: Our tips.
It is certain that wherever you decide to live on your vacation in Chania, the villas, the service, the luxury and the amazing views will be up to your expectations. However, we believe that you have to be informed during your vacation, thus we recommend that you regularly visit the site of the municipality of Chania for more information and tips about your forthcoming vacation.
You can also save precious time on your vacation by choosing local businesses to shop around rather than going into the central supermarkets for your daily shopping. As we have already seen, quality is almost always exceptionally better and also you get to interact with friendly and hospitable native people that can indulge you into the Cretan hospitality way of life. It is certain that you will be remembering your stay for years to come!