A lot of our beloved customers have high interest in homes for sale in chania. Having your luxurious retreat in the chania region has a lot of perks, and in this article from our blog we will go further into informing you about the regions of Chania in order to pick the best option for buying , renting  or constructing your villa.
Crete: Learn about our island
Buying a house in Crete combines an environment with abundance in flora and fauna, loads of countryside views , many mountainous regions and foremost, beaches well known for their beauty. Some say that Crete is one of the most popular islands in Greece, thus our island is a top traveller' s destination. Crete is the biggest island in Greece, not only size wise, but also according to population. Our island is full of infrastructure, mainly in businesses that rely on tourism. Opposed to popular belief, Crete also has a very big agricultural sector producing top quality vegetables, and world known extra virgin olive oil.
Crete has 4 prefectures, from east to west that are: Lasithi, Heraklion, Rethymnon and Chania. Our article is geared to the latter, as our construction company specializes in this region.
Chania: A vacationer's paradise.
Houses in chania are in high demand. This is absolutely normal, as our hometown has a population of more than 150.000 people, coming only second to the Heraklion region. Counter to Heraklion, Chania has a lot of world known beaches such as Elafonisi and Balos lagoon that are a pole of attraction to the whole world. Furthermore, Chania is full of historical and archaeological sites such as Ancient Aptera. We welcome many tourists all year round in our villas  and in our luxurious restaurant .
We are also seeing an urge in demand for luxury villas for sale or rent all over Crete , and we know for sure that many tourists that come for vacation in the island fall in love with our culture, our peoples hospitality and the folklority of our villages that decide to buy a property in Chania and retire here. Below, we will try to pinpoint all the crucial regions of Chania Mainland and countryside in order to have a broader view of our city's landmarks and highlights.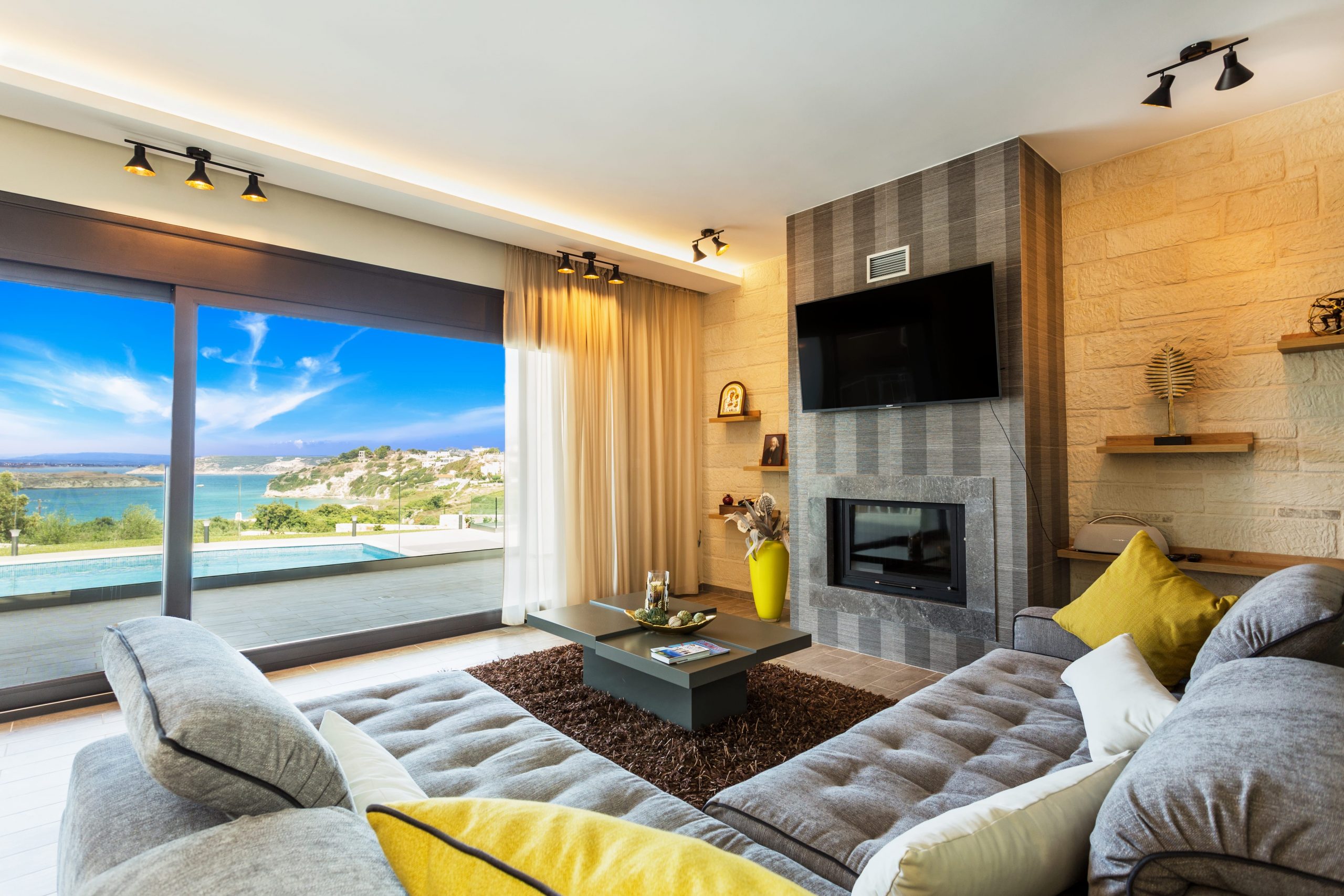 Homes for sale Chania Region: An overview.
Our hometown offers beach shore properties, properties with unobstructed sea views on mountain tops, mountain retreats far with mountain views far from the tourist areas and depending on where you decide to reside you can take advantage of one , or a combination of all those stated above.
Our Region' s Capital (Chania town centre) offers a huge variety of properties pretty close to the town center and the beautiful areas of the old Venetian port and the commercial center of chania. Heading west, out of the city bounds you will see the upmarket touristic beach shore areas of Agii Apostoloi, Stalos, Agia Marina , Platanias , Gerani , Maleme and Tavronitis. These areas tend to be the most touristic of our region as they are on the beach shore where hundreds of small and larger hotels, businesses , shops and restaurants are established for years.
From the east side of our town centre lies the areas of Halepa, and Tampakaria where all the embassies , the governmental buildings and the high class society of the old times used to live, some kilometers away from the town center. These areas we talked about have the most population, but Chania Region offers countless opportunities for vacation or property buying in the well established villages of Chania mainland.
Buying a Home in Chania: Our recommendations
Judging by our many years of experience, our beloved customers prefer to buy or rent a house/ villa far away from the city traffic, and indulge themselves into relaxation in villages of mainland chania. By offering villas with spa and swimming pools our customers take advantage of the stunning Cretan countryside, the exclusivity of a villa and the luxury of a private swimming pool all in one place.
This has became a norm in the last decades, as an increasing number of people from Europe (especially British, Russians and Germans) have already bought homes in specific regions. In many cases the number of residents from EU is so big that shops with traditional products from their homeland have been established in order to fulfill their needs. Many of our clients buy a home in order to have it as a temporary home when vacationing, but also a very large percent are living in Chania permanently having retired on pension.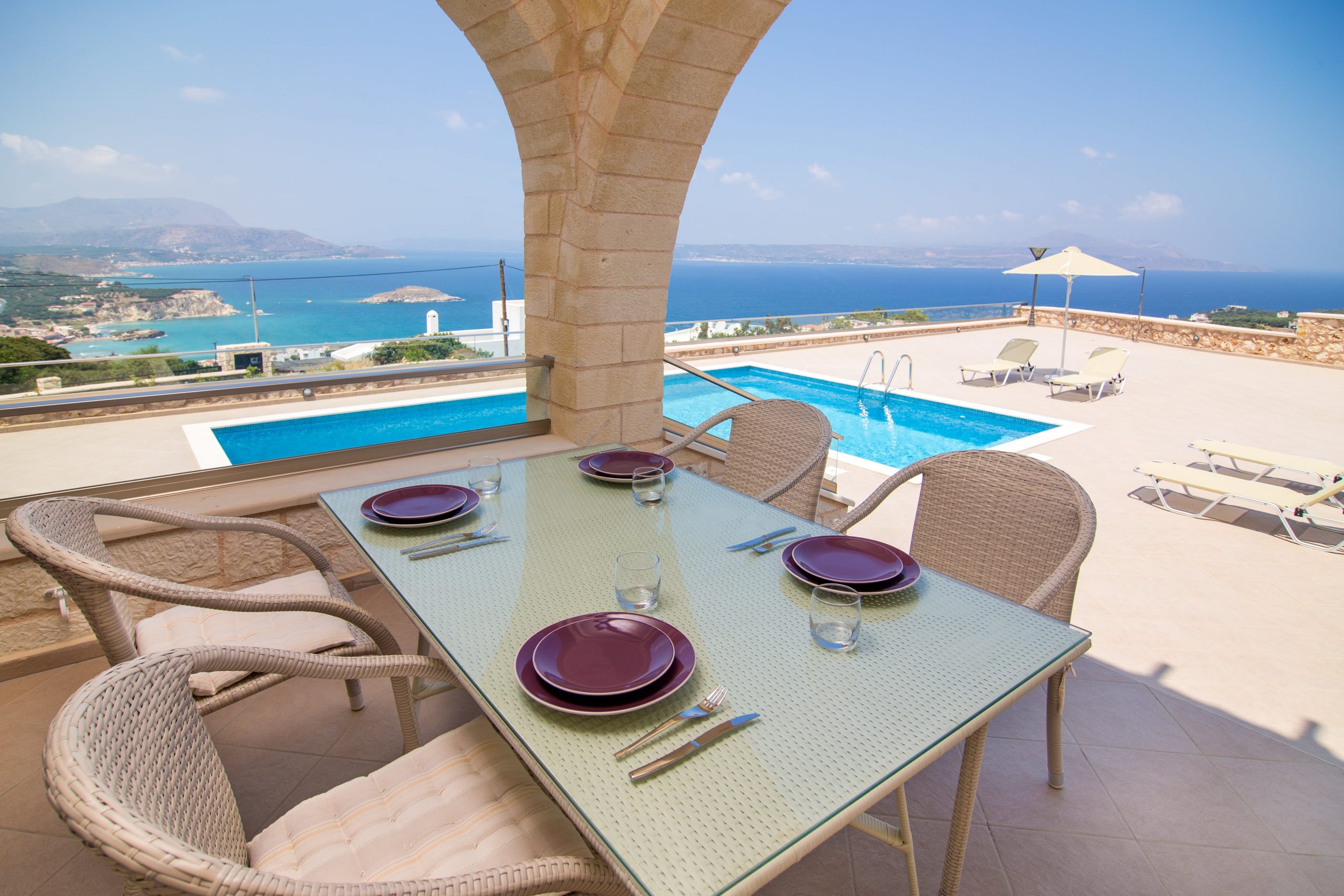 Buying a villa in Chania: Well Established choices
A very famous region of Chania is called Apokoronas. This region is a top choice for many buyers because of the proximity to the sea, the sea views it provides as well as the easy access to the town centre by car. Infrastructure in this region is strong, with shops, bars, beachfront restaurants as well as governmental institutions (i.e. health center, banks , municipal office) in close distance.
Many villages comprise the region of Apokoronas, although the villages with the best presence of villas and EU residents are the villages of : Kalives, Kokkino Chorio, Almyrida, Plaka, Georgioupoli, Tsivaras, Megala Chorafia, Vamos and Vrisses. Buying a home opportunities are abundant there and the daily interaction with the locals guarantee you a pleasant and stress free stay.
Living in Chania : Further choices
Apart from the very well established choices for living in Crete, you can select a more secluded area for your dream home. This does not affect your daily life though as villages of Chania mainland are in close distance with roads connecting all of them together. Some more secluded villages in the Apokoronas Region are the villages of Ramni, Paidochori, Armenoi, Emprosneros , Drapano and Nio Chorio.
They are in a close distance with the established choices for staying in Chania we talked about above, but have a more private lifestyle with fewer people and houses. It is ideal for people that seek more outdoor activities like hiking, horse riding , gardening and everything concerning nature.
Houses for Sale chania: The North beachfront options.
If you like to have a better access to the beaches of our island then you may head far North , or Far South. On the North side, the Region of Kissamos (40klm away from Chania town) offers nice sea views and many choices for staying in beachfront properties.
The villages of Kissamos, Kolymbari are top choices amongst travellers and with a fair amount of life, as many locals live there all year round. Some great villages around kissamos area are Afrata Village, and Platanos village. These regions are great amongst tourists because of their proximity to well known beaches such as Elafonnisi and Balos Lagoon.
Houses for Sale chania: The South beachfront options.
The White Mountains are a series of mountains that basically divide the Chania Region into the North and the South part. Also the climate between North and South is different because of this mountain range, as the North cold and humid European climate is blocked from this enormous mountain range. On the contrary, on the South parts we face hot and dry climate coming from Africa that is also blocked from the White Mountains.
This difference in climate is clearly visible on the vegetation as well, as most of the cultivated lands are in the North. However the south offers impeccable beaches and vast relaxation options as a small percentage of Cretans live there. Villages that you have to check when looking for a villa in Chania South Region are: Sfakia, Loutro, Paleochora and Sougia.
Chania home Buying: What we believe.
In our construction company we believe that your house has to prospect your views, your dreams and your character, so buying a house in our town is not an easy choice. You have to be sure that you find the right house, in the right condition, on the right region, and with the best options for your kind of lifestyle. More information about our municipality, can be found also from our official municipal site.