A lot of our customers envision a stone villa in Chania in order to take advantage of the Greek architecture and live in a different place, far away from the modern EU standards. On top of that, they desire a living in stone houses that obey the architecture of the past and remind the traditional way greek houses were made in the past, as well as our country's folklore tradition.
Stone Villas in Crete: A representation of the past.
By owning a stone villa in Crete, or renting a stone villa short term,  our beloved customers feel the essence of the past with the contemporary amenities of the modern era. Judging by architecture, the stone villas we construct have a lot of things in common with buildings of the past. Flared stone arches, lots of small rooms inside, wooden floorings are only some of the key features that reminds us of the past.
A cosy fireplace, a trivet or an andiron typically co-exists in the house. The difference that we offer into those new establishments is the luxury elements. Fine quality materials, ceramic tiles, exceptional lighting, a spa or a swimming pool are always present in our constructions. By this way we can combine the tradition with the modern amenities and offer a stone villa in order to fulfill your dreams and expectations.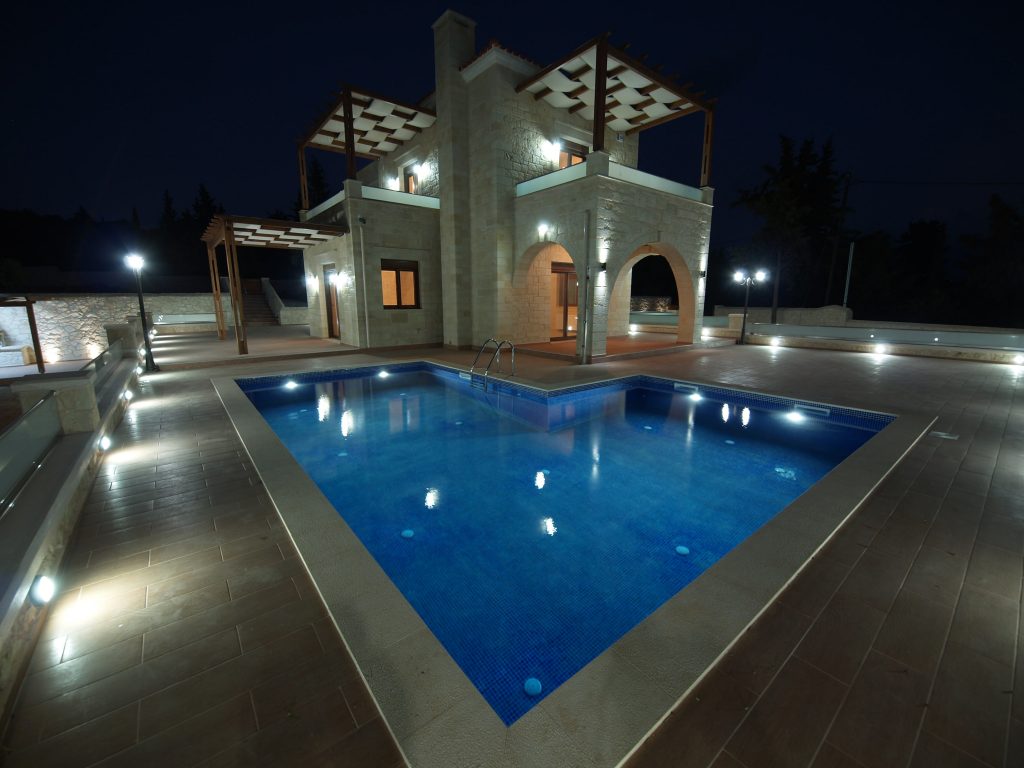 A small correlation of stone villas with shepherds hut.
By owning a small villa we can see some correlation with the temporary stoned houses we used to see in the Greek countryside and especially the Greek islands, such as Crete. Stone houses for sale nowadays don't have the primitive character of the shepherds hut, but the look similar according to the building materials they used in the past.
Those temporary buildings were referred to in the tradition as "Mitato" , and in our island those are commonly used by shepherds in order to have a shelter when they graze. The "Mitato" almost always was used by shepherds as a milking and cheese making factory simultaneously, and some of those buildings can also be found on the Cretan "Highlands" , on the White Mountains on an altitude of 1200+ meters. Our stone villas in chania are also resembling some of the architecture norms of those buildings, especially concerning the building materials and the construction quality. Needless to say, those buildings have endured harsh conditions for centuries!
Stone houses: Hard as a rock!
Stone houses were made centuries ago with whichever materials people could find in the countryside. This means that they had a unique character, but furthermore because of the lack of composite materials, they build them with wider walls for better reinforcement.
This was an emergency situation because of the poverty of the last centuries, but nowadays this is a construction advantage as well. Greece is well known as a beautiful country, but earthquakes (fortunately not often, and not big in magnitude) are present once every two or three years. Needless to say, stone villas in Greece are extremely safe because of the stone materials, the arches that absorb any vibrations and the wider walls and foundations compared to the older buildings. Buyers can be reassured that either a concrete villa in or a stone villa in Greece will be 100% safe.
Mandatory laws are present obeying strong foundations, steel reinforcements and rebar throughout every building phase making Greek houses a marvel of engineering!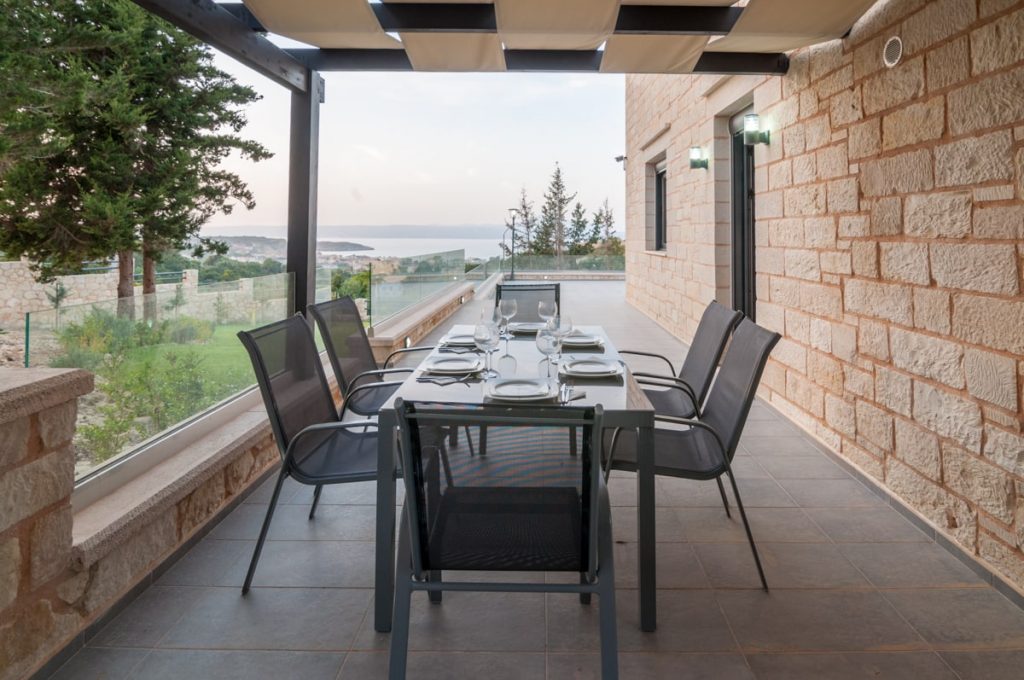 How durable are stone houses in Crete?
Stone houses in Crete and all over Greece are extremely durable. Because of the reason stated above, but also due to the Greek norm that parents always give their house to their children (or even grandchildren) it is safe to assume that when you buy a house in Crete, this house will follow you through your whole lifespan (and even more !).
When in Crete, we welcome you to do the following experiment. Take a close look to some of the houses that reside in some of our mainland's villages. You may see some abandoned houses and mansions. The facade and the roof may be in disrepair, but the stone walls will always be intact and ready for the future renovation if somebody is willing to give the necessary effort.
Those houses may be at least 100-150 years old, yet they have plenty of life left with the proper care, and with way less money compared to a house built from scratch. Furthermore, as we attestated before it will be solid, safe as a rock! And obviously it's going to remind you of the tradition and the ethics of the past.