MELETIA STONE HOUSE
Pazinos | Akrotiri
300,000€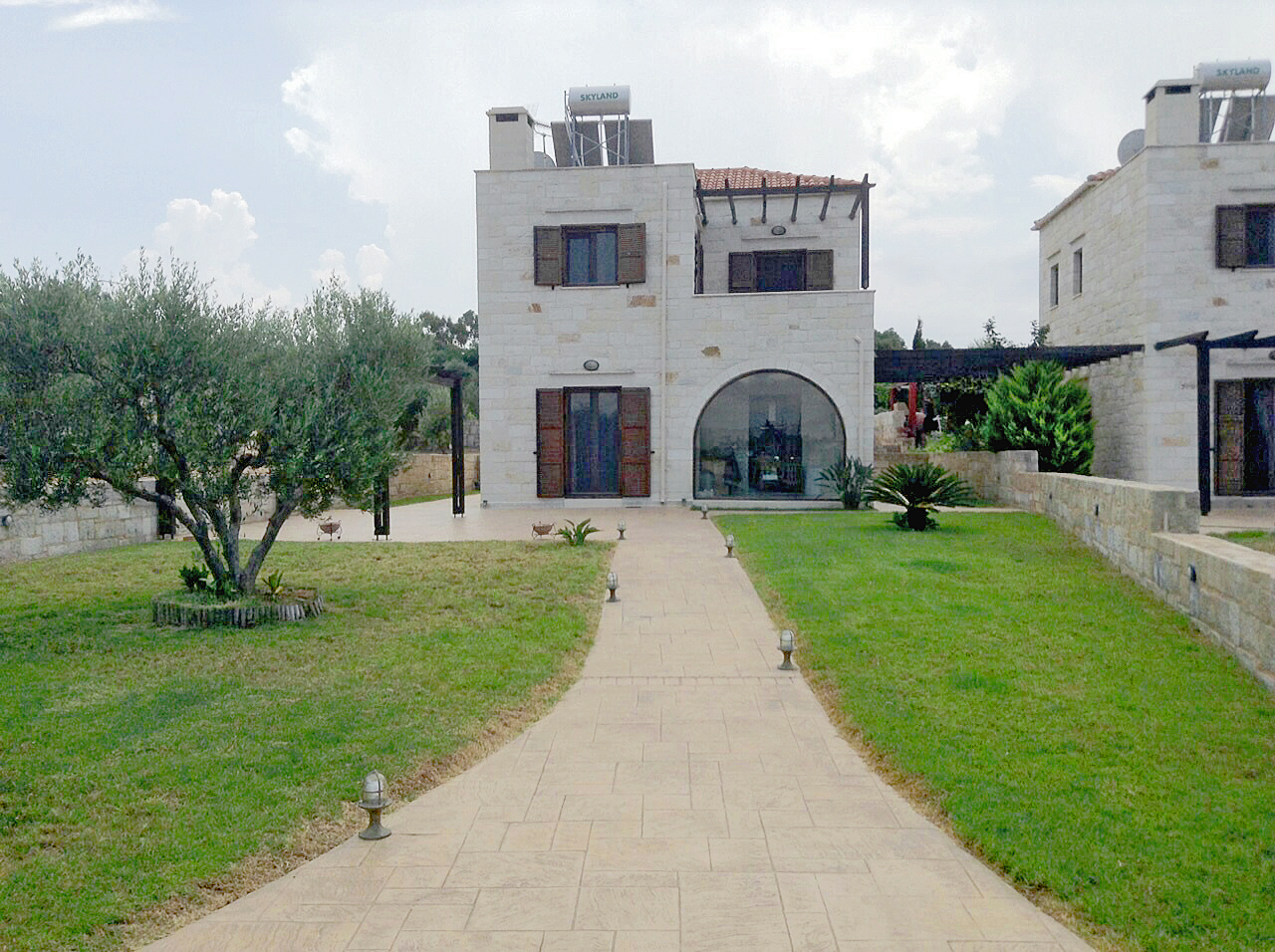 The complex "Meletia I" is situated in a picturesque village Pazinos, which will immediately attract your attention. The complex "Meletia I" consists of three stone houses, which each house was built on its own separate plot. Notice, that for sale is the only one house, while the other two houses of the complex have been sold.
The first house (left) "Meletia I" consists of two floors and specific: on the ground floor there is a cozy lounge with fireplace, a beautiful kitchen and a small bathroom. The first floor has two bedrooms, a spacious bathroom and a big terrace. It's convenient structured with a lot of extra equipment for ready to use, such as the heating system in all rooms, solar panel for hot water, complete accessories in the bathrooms, integrated appliances, beautiful wardrobes in all bedrooms and high quality tiles, will allow you to live comfortably all year round.
Additionally, in a short distance from the house there was built a small guest house of 30 square meters. The guest house consists of a lounge-dining room and kitchen, one bedroom and a bathroom. It is fully furnished and has all the necessary accessories for a comfortable stay of your guests.
Details:
Lot Size: 1.740 m²
Total house area: 110 m²
Total area of ​​the guest house: 50 m²
Bedrooms: 2
Bathrooms: 2
Fireplace: Yes
Pool: No
Heating: Autonomous
Air conditioning: In all rooms
Functional stone buildings with natural Cretan stone (wall thickness of 60 cm)
Proper placement of each villa for maximum ventilation
Natural materials used in construction (Stone, Glass, Wood) and the corresponding design methods
Full heat and hydro insulation, approved  by Greek organization KENAK
Fortified supporting structures for maximum strength (top quality concrete & steel S 500s)
Electric water heater
Solar panel for hot water
Fitted kitchen made from natural wood
Separate water tank for greater autonomy
Railings stair made from stainless steel (inox)
Fitted wardrobes from natural wood in all bedrooms
Bathrooms and WC accessories the most famous brands
The interior design of the villa has been specifically designed by our experienced designers
Water-sewerage system
Fireplace in the living room
Built-in kitchen electrical appliances  (fridge, stove, oven, extractor hood, dishwasher)
Heating Oil Systems
German aluminum window and external door frames with double, heat-insulating Glazing, fitted insect nets and shutters
Bathrooms and toilets tiled with top quality tiles
Guest house with total size 30 m²
Veranda covered with double glass
Green natural lawn in front of the house
Spacious veranda and balconies
Electronic entrance gates
Italian floor tiles
Parking area with wood pergola
Stone fence around the plot
Interior doors made from natural wood
Restaurants & Coffee Nearby
Maintenance services for the house on request
"Akrotiri" (GR: Ακρωτήρι, the Cape) is the common name of the peninsula that lies to the north-east of the city of Chania and administratively belongs to the Municipality of Chania of the county of Kydonia of the prefecture of Chania.
The official name of the peninsula is "MELECHAS" while its ancient name was "Kyamon".
Its 10.000 residents live in around 20 villages and settlements. The town hall is at the village of Pithari 6.5 km away from Hania.
Other villages are : Sternes, Horafakia, Kounoupidiana, Mouzouras, Korakies, Argoylides, Aroni, Agios Nikolaos, Pazinos (or Paxinos), Anemomyloi, Marathi, Kathiana, Kalathas, Kampani, Stavros, Kalorouma, Hordaki, Rizosklopo, Agia Zoni and Profitis Ilias.
The road network is quite extensive and in good condition, reaching all the villages and beaches of Akrotiri. There is also a very frequent bus connection with Hania.
Distances:
The nearest beach Marathi: 6 km (10 min)

Chania airport: 5 km (7 min)

Chania city: 12 km (15 min)
Souda sea port: 12 km (10 min)
Local markets: 500 m (2 min)
Coffee shops: 500 m (2 min)